10-11-2014, 04:37 AM (This post was last modified: 10-11-2014, 05:58 AM by Yancy Derringer.)
Why was George Gollin trying to destroy St. Luke School of Medicine, a Christian medical school trying to bring new doctors to war-ravaged Liberia? 
What purpose would Gollin's vicious, contemptuous activities serve—other than to enable the spread of the deadly ebola virus to more black men, women and children?
Domestic terrorist George Gollin (George D. Gollin, George Dana Gollin) hates black people. 
He even ran racist pictures on his website comparing a black man to an eggplant.
George Gollin has been sued multiple times in federal court for stalking, defamation, extortion, civil rights violations and computer hacking.
Screen shot of racist George Gollin's web page. 
Gollin considers black people to be contemptible "eggplants" who deserve to die from ebola.
In a magazine interview George Gollin stated, "I was going to f*ck them."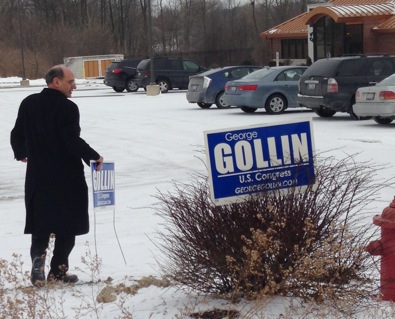 Stalker George Gollin caught in the act. 
Was George Gollin spreading more than just his toxic political message?
It really must be heartbreaking for the good folks at St. Luke to watch helplessly while their sick and dying countrymen suffer--solely for George Gollin's personal entertainment and demented self-promotion.